Welcome to the Island as I join many great authors in this wonderful blog hop! Just a few formalities before I go into my reasons I love all things Greek, mythically and present day alike!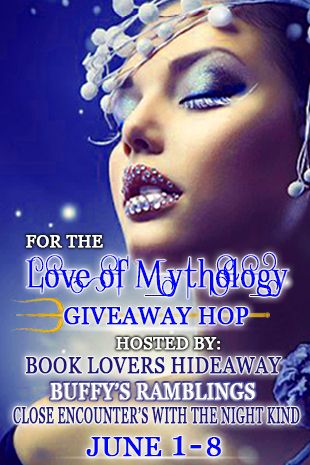 The Grand prize consists of the following:
$45 Amazon GC or $45 worth of books at TBD
ebooks from Patricia Bates
a prize from Lisa Beth Darling
an ecopy of Sunburn by Rosanna Leo
an ecopy of Ain't No Bull by Danica Avet
an ecopy of Remedy Maker by Sheri Fredricks
I'll also be giving away some fun stuff too, but that later.
I love mythology, my preference Greek. As a child, I drowned myself in the world of Gods and Goddesses. As a woman, sinful Greek men leave me salivating.
See what I mean? Yummmmmmmm yummy!
But what is best about Greek is the mythology? Everything!
The crazy stories of jealousy and lust. The fact they seem more in our reach because of their connection to man. I love them!
My best seller Touch of the Gods: The Wager touches on several gods, but the one in particular? My hero? The god Hephaestus. Let's learn some about him.
Hephaestus
is the Greek god of blacksmiths, craftsmen, artisans, sculptors, metals, fire and volcanoes. Hephaestus' Roman equivalent is Vulcan. In Greek mythology, Hephaestus was the son of Zeus and Hera, the king and queen of the gods.
As a smithing god, Hephaestus made all the weapons of the gods in Olympus. He served as the blacksmith of the gods, and was worshipped in the manufacturing and industrial centres of Greece, particularly Athens. The cult of Hephaestus was based in Lemnos. Hephaestus' symbols are a smith's hammer, anvil, and a pair of tongs.
He's the one god I believe is most powerful. He makes all the weapons and most likely has fail safes for them. I believe Hephaestus could take out all the gods and goddesses but he doesn't let that turn him into a venom tongued demon. He's kind and understanding. Yes he's had his ups and downs (especially that down part as he was thrown from Olympus) but he continues to do his best and his best is building.
So take it from me, in mythology Heph is awesome and that's why I made him the star in my story. And don't forget, where there were sexy Greek gods to drool over, we now get to do the same with even hotter Greek men!
When love and war make a little wager, what could possibly go wrong?
I am Hephaestus. God of inventions, blacksmiths, and volcanoes. Sounds like I'm awesome right? Well I'm not. In fact, I'm the loser of Olympus and a new bachelor to boot. Living the single life is great until a decade passed. Honestly if my divorce from the Goddess of Love wasn't bad enough, I am still being rejected by the other women of my home.
Because of an incessant need to make me a pawn in his game, my brother, Ares convinces Eros to make a little bet. A wager that puts my lack of love life to the test. Sent to Earth, I'm skeptical, when suddenly I lose myself in the sensual scent and beauty of the full bodied Vanessa. She is my everything, my perfection.
Sadly, from a single caress upon her silky flesh, I sent our lives into a downward spiral of hell. To save her, I must get beyond my demons of the past. And to save me, she will have to decide if I'm worth giving up everything for.
Thanks for stopping by for the blog hop here. I do hope you enjoy yourself while checking out all the other authors! For my contest to win Touch of the Gods: The Wager ebook and some swag from me, all yo uhave to do is caption the photo below. Best caption wins! And good luck to everyone who enters the other giveaways as well.
Caption this: Contest giveaway
< script src="http://www.blenza.com/linkies/opt_defaults.js">